In a few decades, Croatia has become one of the most popular destinations in Europe thanks to the development of tourism but especially its dream islands and its immense white sand beaches.
If you are looking for adventure and discovery and want to stay in Europe, then Croatia is the place to look. An incredible geographic diversity with the Adriatic Sea, several rivers and lakes but also mountains and many wonders to explore and exploit for outdoor activities. The friendliness and diversity of this tourist destination makes it an ideal place for the practice of thrilling sports. From kayaking to canyoning to freefall, if you are looking for adrenaline and escape, this region is for you.  Split, Omis, Dubrovnik, Zadar, Hvar or  Korčula, there is no shortage of spots to test more or less extreme activities. Here are some examples with this small selection:
Canyoning
Outdoor sport par excellence because it brings together several practices. A mix of speleology, hiking, climbing and mountaineering, but also whitewater activities such as jumping from a cliff, swimming in currents or even sliding on natural corridors in toboggan mode. In short, difficult to imagine a more complete outdoor sport. Canyoning is above all a human adventure to share with always a lot of fun in the end. The goal is to venture into narrow and difficult to access gorges with sometimes ascents or descents and then finish in the river. And that's good because Croatia is rich in canyoning spots with its many caves, waterfalls and crystal clear rivers. Split,
Stand up Paddleboarding
Stand up Paddleboarding (SUP) is a derivative of surfing but much more accessible. A sport that has become very popular in recent years for relaxing outings with family or friends. With longer and wider boards, therefore more stable, this practice has been widely developed because it allows everyone to be able to walk on the water and enjoy the surrounding landscapes.
Stand up paddleboarding can be practiced in the ocean on waves but also on lakes and rivers and Croatia is full of fantastic places to test this activity. In cool ballad mode but also why not in a yoga session because for some people, it is a good basic exercise for the whole body or also a moment conducive to meditation in movement. As for the spots in Croatia, a beautiful island hopping trip awaits you, a long cruise along the coast or simply an exploration of bays and beaches. In any case, you will take full eyes, for sure.
Skydiving
How about a 10,000 foot free fall (over 3000 meters) over the turquoise waters of the Adriatic Sea with a breathtaking tandem skydiving experience? Split is the second largest city in Croatia, a unique place buzzing with energy.
A city especially considered as a Mecca for the addicts of the parachute jump which go each year towards the Dalmatian coast for its epic summits. Note that Zagreb and Hvar are also key destinations for testing the jump from an airplane. Try the 5G experience on a 45-second tandem freefall on the most popular peninsula in Croatia. An invaluable souvenir guaranteed to shake up your vacation.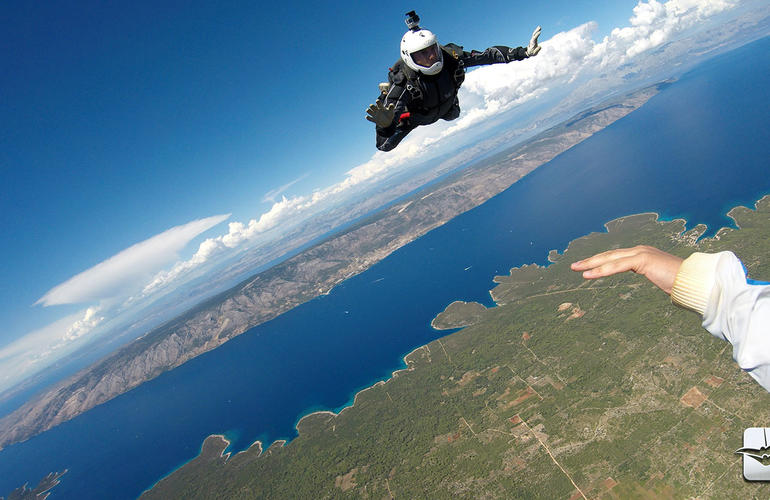 Rafting and sea kayaking
Whatever your boat, you can sail through the Croatian archipelago to escape all civilization by going to the heart of nature. With, for example, an epic rafting session on the Cetina river in Split with a descent of 10 kilometers which will take on average just over 3 hours.
You will take advantage of several stops for swimming, jumps from the rocks in the deep river, the observation of wild animals or a shower under a waterfall … hard to find more heavenly as an outing. As a bonus, you will have the opportunity to explore a cave of fresh spring water with stalactites and stalagmites while passing through a waterfall. Rafting and sea kayaking are activities not to be missed if you are visiting the region.
Scuba diving
Croatia is renowned as one of the best destinations in the world for underwater exploration, justified by the crystal clear waters of the Adriatic Sea. The clarity and purity of the water are ideal for enjoying deep diving. With a mask and a snorkel, set off to explore the seabed with a rich and varied fauna and flora. With underwater reliefs that alternate between 25 and 1300 meters deep, divers will be able to appreciate the colorful vegetation with the Kornati National Park and its archipelago of 89 islands as its flagship destination, as well as the spots of Pula and Split.
Downhill bike
Encore une activité outdoor qui permet de joindre l'utile à l'agréable. Profitez d'une belle ballade en VTT dans un décor pittoresque avec une vue originale. Découvrez les ruines des plus anciennes villes de la Croatie en VTT lors d'un excursion unique pour un voyage dans le temps jusqu'à Stari Grad.
Une expérience qui vous permettra non seulement de renouer avec la nature, mais vous aurez aussi l'impression de faire un saut dans le temps. Si vous choisissez la route qui rejoint la ville de Hvar à Stari Gard, vous trouverez en chemin la maison de Petar Hoktorovic, célèbre poète de la Renaissance. Une fois à Stari Grad, vous aurez le choix entre deux itinéraires de 10 à 50 km en fonction de votre niveau et de votre condition physique. bref de quoi bien profiter avec votre guidon dans les mains.
Escalade
Pour un bon shoot d'adrénaline lié à une activité physique, l'escalade est idéal quel que soit votre niveau. En Croatie, il existe une variété de voies disponibles qui vous donneront l'occasion d'expérimenter ce sport avec différents niveaux de grimpe et différentes techniques. Environ 60% de la surface de la Croatie est montagneux, ce qui en fait l'un des endroits les plus intéressants d'Europe pour grimper. Vous pourrez par exemple monter jusqu'à 30 mètres et profiter de la vue magnifique sur la ville d'Omiš, la mer Adriatique et le canyon de Cetina.
Enfilez vos chaussons d'escalade, un harnais et un casque pour environ 3 heures de pratique en fonction de vos capacités physiques. Les alpinistes croates vous attendent pour repousser vos limites au cours d'une belle aventure en montagne.
Découvrez les activités outdoor en Croatie avec Adrenaline Hunter